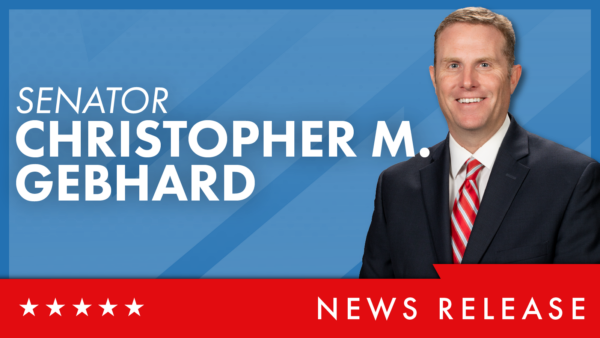 HARRISBURG – Sen. Chris Gebhard (R-48) was assigned to serve on seven standing Senate committees for the 2023-24 Legislative Session: Aging and Youth; Banking and Insurance; Community, Economic and Recreational Development; Consumer Protection and Professional Licensure; Environmental Resources and Energy; Law and Justice; and Rules and Executive Nominations.
Gebhard will serve as the chairman of the Community, Economic and Recreational Development (CERD) Committee, which oversees the Department of Community and Economic Development. CERD is primarily responsible for state's various grant and loan programs to support economic growth, attracting and retaining businesses, tourism and overseeing the Gaming Control Board.
Having previously served as the voluntary chairman of the Lebanon Valley Chamber of Commerce, Gebhard said he is pleased to serve as chair of a committee that will focus its efforts on job creation and economic development. "A key focus of mine before I became an elected official was on improving businesses regulations, finding ways to make Pennsylvania more attractive for economic development and promoting our Commonwealth's great tourism industry."
Gebhard will also serve as the vice chair of the Banking and Insurance Committee. The committee focuses on improving consumers' access to high-quality, affordable insurance and financial services while supporting a fair and healthy marketplace that is transparent and cost-competitive. As the owner of a small insurance and risk-management firm in Lebanon, Gebhard stated, "I am looking forward to bringing my business experience to the committee to help Pennsylvanians better navigate the banking and insurance landscape."
The Environmental Resources and Energy Committee has jurisdiction over matters relating to the management of Pennsylvania's air, land and water. This includes the conservation, of Pennsylvania's natural resources, as well as the development and planning of sources of energy. "I look forward to help craft policies that allow PA's natural resources to be key drivers in building the Commonwealth's economy in an eco-sustainable way" said Gebhard.
As a member of the Senate Rules and Executive Nominations Committee, Gebhard will help to decide whether Senate bills returning on concurrence from the House of Representatives are accepted and consider the executive nominations of Gov.-elect Josh Shapiro for his cabinet and departmental boards.
"I am committed to continue working to make our communities in the 48th Senate District, and all across our great Commonwealth, a great place to live and raise our families."
Gebhard was elected in 2021 as Senator of the 48th District, which is composed of the heart of Pennsylvania Dutch Country, containing all of Lebanon County and portions of Berks and Lancaster counties.
CONTACT: Alex Gamble, 717-274-6735