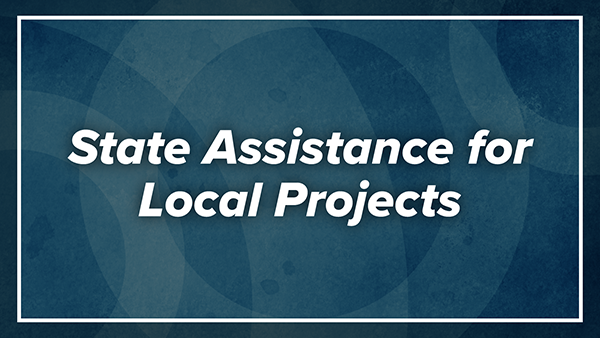 HARRISBURG – Rep. Russ Diamond (R-102) and Sen. Chris Gebhard (R-48) today announced state grants totaling $1,705,634 in order for three Lebanon County municipalities to better serve residents' needs.
"Public utility infrastructure is very costly, but through gaming funds supplied to the Commonwealth Financing Authority, these projects can be completed without further burdening the taxpayer," Diamond said. "In this case, these are funds related to my 2017 legislative effort to secure a portion of the local share assessments (LSA) of Hollywood Casino proceeds solely for Lebanon County and the new statewide LSA fund."
"This funding will greatly benefit our communities by minimizing the costs associated with important updates that will help to reliably provide safe drinking water, minimize loss of life and damage to property associated with fires and maintain necessary infrastructure," Gebhard said. "Nearly $2 million of costs will not be passed along to our communities – this is really great news."
Grant funding is being distributed as follows:
Richland Borough has been awarded $712,634 in LSA funds to upgrade its public water supply system in Richland Borough. The proposed project will include the establishment of Well No. 9 as a redundant source of water supply and installing a submersible pump in the 8-inch well which has already been drilled. New pipeline will be installed parallel to the existing 8-inch transmission main that conveys water from the reservoir to the borough.
On the behalf of Fredericksburg Volunteer Fire Company and Mt. Zion Community Fire Company, Bethel Township has been awarded $600,000 in LSA funds for the purchase of two fire apparatuses. The fire departments of Bethel Township provide complete fire protection and motor vehicle crash assistance for Bethel Township. The Mt. Zion Community Fire Company and the Fredericksburg Volunteer Fire Department are looking to replace their 1995 Rescue Engine and 2002 Engine Pumper, respectively, as they are both in need of replacement.
Northern Lebanon County Authority (NLCA) has been awarded $693,000 in LSA funds to update the sanitary sewer system located in Jonestown Borough. The project will include the no-dig, non-disruptive installation of full length Cured-In-Place-Pipe (CIPP) lining, eliminating leaking pipe joints and restore structural integrity of the system along Colonial, Plymouth and Mountville Drives, North Fisher and South Lesher streets, Hickory Dell Lane, and Route 72.
Funding for the projects is being provided through the Commonwealth Financing Authority (CFA) Local Share Account (LSA) program, which uses gaming revenue to support projects in the public interest across the Commonwealth.