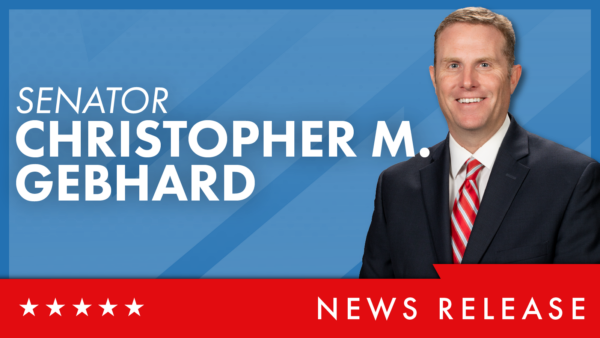 HARRISBURG – As constitutionally mandated, the Pennsylvania Senate voted and approved, in a bipartisan manner, a General Appropriations budget before the July 1 deadline.
"The state Senate approved a realistic 2023-24 budget for Pennsylvania that holds the line on taxes, promotes job growth, continues historic support for schools and sets aside money to prevent future tax hikes," said Sen. Chris Gebhard (R-48).
"By passing this budget, we practiced the fiscal restraint necessary to keep Pennsylvania running smoothly not just this year, but in the future. I am proud we resisted the temptation to overspend and will be putting money away to shield taxpayers from financial challenges that will arise in the future. These choices will serve all Pennsylvanians well," Gebhard said.
The $45.55 billion budget spends approximately 3.2% more than last year, ensuring the state's projected budget balance remains positive through Fiscal Year 2025-26. The plan also increases Pennsylvania's Rainy Day Fund by $500 million, bringing the state's budgetary reserves in line with national averages. Having these reserves will improve the commonwealth's bond rating, reduce interest rates on our debts and increase our ability to respond to potential economic downturns.
"This budget also helps put the Commonwealth on the national stage for economic development," Gebhard said.
No new taxes and the continued phased reduction of the state's Corporate Net Income Tax, combined with the millions of new dollars for workforce development, job training and career and technical education will make Pennsylvania an attractive location for both small and large new business ventures. It also provides additional resources to support improvements to the state Department of Environmental Protection's permitting process as well as the modernization and upgrade of Pennsylvania's occupational licensure system.
The budget reduces the tax burden on some of our most vulnerable populations by expanding eligibility for and increasing the rebates provided by Pennsylvania's Property Tax/Rent Rebate Program. It also permanently protects program participants from losing eligibility due to future Social Security cost-of-living adjustments.
"This was truly a historic budget when you take a look at the increases for education," said Gebhard.
The budget not only provides basic education with an increase of $567.4 million, which is a nearly 8% hike, it creates a new $100 million Pennsylvania Award for Student Success Initiative (PASS). This new program will provide parents of children in the lowest 15% of schools in statewide performance standards a chance for a scholarship to be used outside of public education. These scholarships would be available to students living in households with an income below 250% of the federal poverty level. This budget also provides $125 million for school safety grants and $100 million for student mental health.
Additionally, the budget seeks to improve public safety by providing enough funding to train 384 new Pennsylvania state troopers while also increasing the current cap on the overall complement of officers by 100.
"This budget makes a giant leap toward funding our badly needed infrastructure projects too," said Gebhard.
Beginning next year, the State Police will start a $125 million annual phase down in drawing support from the Motor License Fund. By the year 2026-27, State Police will no longer use Motor License Fund dollars and will be entirely subsidized through the General Fund. This would add approximately $400 million dollars annually dedicated for road and bridge improvement projects.
"I am extremely proud of the bipartisan approach the Senate and governor took at negotiating this agreement. It is my sincere hope the House takes partisanship and politics out of the equation and sees the tremendous potential this budget has to help millions of Pennsylvanians," Gebhard said.
The legislation now heads to the House of Representatives for consideration.
CONTACT: Matthew Urban, 717-787-5708